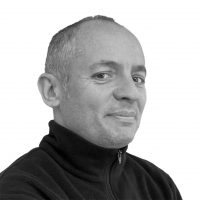 was born in Poland in 1969. After graduating from the Art School in Jelenia Gora in Poland, he attended a three-year course in Inscape and Graphic Design at the workshop school of A G Fronzoni in Milan from 1991 to 1994.
1994-1995 He worked in the technical office of Stila srl in Milan, primarily with interior design. He collaborated with Applicando magazine (Italy's leading magazine for Apple products) for which he designed several covers.
1995 He won the competition organized by ABAC for the livery design of the McLaren Formula 1 single-seater. In the same year, he also obtained a special mention in the Waterlily competition for the project "less object, more project" created with architect Paolo Frello.
1995 He began collaborating with Driade spa, first as a member of the technical office, then as a graphic designer. With this title, he became responsible for the entire corporate communication line including catalogs, material for trade fairs, advertisements, and their website.
1998 Together with the graphic designer Paolo Sala, he founded DSDS, a web design and communication  studio. There, he collaborated with several leading Italian design companies including Baxter, Driade, and Edra. The website created for Edra won the second prize in the first edition of the Italian Web Award in 2003. Other clients of DSDS are architects and photographers including Antonia Astori, Sabine Schweigert, Tonelli art gallery, tour operators Teorema and Blu Club, and the publishing house Scheiwiller.
2003 He opened Dudka-Design, a studio that deals with graphic design and visual communication, under whose brand included the following main projects:
-logo, corporate identity, signs and guides of the Gallery of Modern Art in Milan
logo and coordinated images of the Pietro Pellegrini Botanical Garden (Massa)
Praim Technologies brand and coordinated image
restyling of the brand for the Gallisport store chain in Livigno
coordinated image of PHLItalia, Makeup and Keyboard
2003 He collaborated with the Apuan Alps Regional Park for the creation of information material relating to tourist itineraries (signs and posters).
2005 He collaborated with the ASC of Vairano, a test track for cars, for the monthly magazine Quattroruote (editorial Domus group), for which he designed the liveries of the cars and created a series of interactive CD-Roms for safe-driving courses.
Since 2006, he has collaborated with Terashop Spa, for which he created promotional banner campaigns for the Misterprice and ePlaza websites.
2007-2012 He was the graphic designer for the Gallery of Modern Art in Milan. He created the logo, corporate identity, signs and the website.
2008 He collaborated with Pamar spa creating the website and the newsletter platform.
2012 He collaborated with Castello Sforzesco in Milan as a graphic consultant.
2013-2021 He was a consultant at Mediamilano srl, as a graphic designer and head of communication, following clients such as Parmalat, Bonduelle, LG, Rana, and Zueg.
2015-2022 He was a consultant for Quattrobi srl, for which he created catalogs, brochures and their website.
2019-2022 He was a consultant for Consonni Bioalghe Srls for which he created the new logo, labels, brochures and photographs of the products.
Do you have a project to carry out?
let's talk about